iPhone Tricks > Errors and Issues
Posted in Errors and Issues by Tyrone on January 25, 2023
Advanced Data Protection not working on iPhone? Something went wrong error when you're trying to activate it? Or, Not Available popup shows up and you're asked to try again later?
Advanced Data Protection Something Went Wrong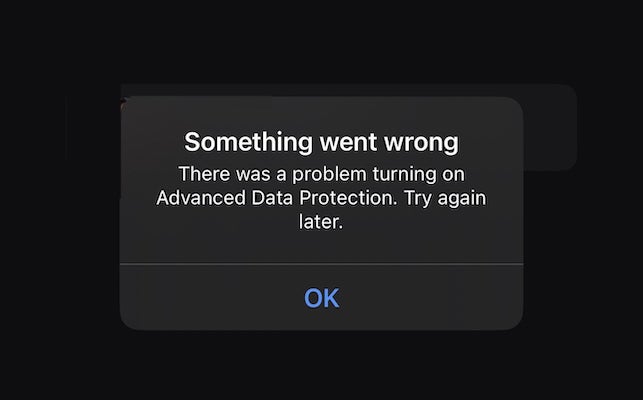 This issue has been reported by Albertino:
"Can't enable advanced data protection… getting Something went wrong error! There was a problem turning ADP on. Try again later. Any way out of this?"
Users have also complained about this problem on Reddit:
"iOS 16.3's iCloud Advanced Data Protection won't activate."
Advanced Data Protection Not Available
We've also encountered a similar error, as seen in the screenshot uploaded nearby. It reads:
"Advanced Data Protection Not Available. Check your network connection and try again later."
How To Fix Advanced Data Protection Not Working
Assuming that you've already set up your Account Recovery, here is what you can do to get around this problem:
1. Retry Activation
First, you should definitely try again. Considering that all screens take some time to load, if your WiFi connection is patchy it might trigger the Not Available error.
Rebooting iPhone and trying again might work! Let us know in the comments if it does.
2. Update All Devices
Next, make sure that all devices on your Apple ID are updated to iOS 16.3, iPadOS 16.3, macOS 13.2, tvOS 16.3 and watchOS 9.3.
If your Mac, iPad or iPhone isn't compatible with one of these versions you have to remove it from your iCloud account for Advanced Data Protection to become available!
3. Try A Different Device
Last but not least, activating Advanced Data Protection on one account will automatically turn it ON for all other devices on your Apple ID.
So, if you get the Something went wrong error on your iPhone, try it from your iPad and vice-versa!
Have you managed to fix Advanced Data protection not activating on iPhone or iPad? Do you have a better solution> Share your feedback in the comments.
Related: For more iOS 16.3 issues and available workarounds check our detailed review!