iPhone Tricks > News
Posted in News by Vlad on December 12, 2022
Apple has released AirTag firmware 2.0.36 (2A36) for 25% of devices! The full rollout is scheduled for Friday, December 16! This update comes to replaced version 2.0.24 (2A24E) which was pulled in November, after it was released to 25% of devices!
AirTag Firmware 2.0.36 Update
As usual, this update will occur over-the-air when it becomes available for your AirTag.
You can encourage your Apple tracking device to update by performing the following steps:
1. Place AirTag next to the paired iPhone.
2. The two devices should stay in range over night.
3. iOS device has to have Internet connectivity online, with Bluetooth and Wi-Fi turned ON!
How To Check AirTag Firmware Update
You will know if your tracking item has been upgraded to the version by checking its firmware: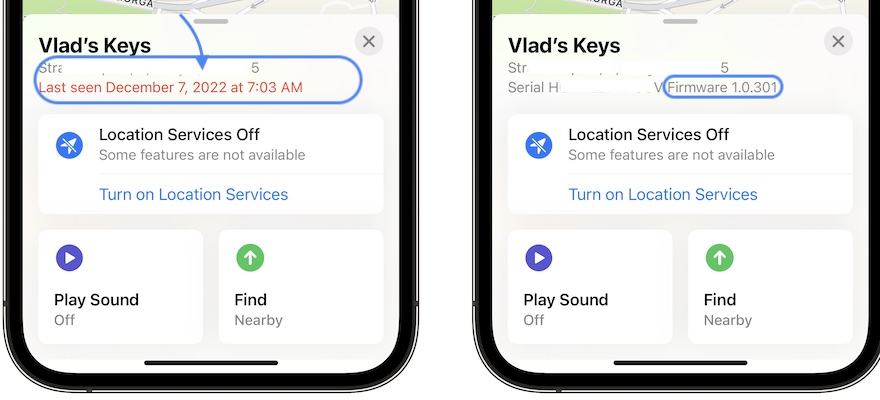 1. Open Find My app on your iPhone.
2. Tap on Items, in the bottom menu.
3. Select your AirTag from the list.
4. Tap the Last Seen info, at the top of the AirTag card right below the name. Does it show 2.0.36? If it does, AirTag has been updated to the latest version!
AirTag Firmware 2.0.36 Features
There's no info yet about changes coming in this new firmware.
We're expecting Apple to publish release notes for firmware 2A36 but the support document dedicated covering the update log, is yet to be updated. It still shows version 1.0.301 as the most recent one.
We will update this section as soon as more info is available.
AirTag Firmware 2.0.36 Issues
Problems reported for this version are tracked here:
To be updated! (Contribute in the comments!)
Has your AirTag update to firmware 2.0.36? Do you notice any changes, bugs fixes or new issues? Share your feedback in the comments.
Related: Getting AirTag Safety Alert on iPhone? Here is how to handle it!