iPhone Tricks > Apps or Games
Posted in Apps or Games by Mary on December 6, 2022
Apple Music not opening on iPhone after iOS 16.1.2 update? Same unexpected behavior occurs with Apple TV? Apps not loading or crashing on startup? Here is what you can do to fix this!
Apple Music Not Opening iOS 16?
This issue has been reported by Nil (iOS 16.1.2):
"Apple apps such as imusic and Apple TV are not opening at all."
We couldn't replicate this issue and couldn't find too many similar complaints. Apple Music won't load for this Reddit user and that's about it.
Are you also facing this problem with the stock Music app or with the Apple TV app on iPhone? Please report it in the comments and provide any other details that might help us report this unexpected behavior to Apple.
How To Fix Apple Music Not Working in iOS 16
Here are some troubleshooting options that you can apply:
1. Restart iPhone
First, you should reboot your device. A fresh start could clear any minor glitches that might prevent these stock apps from opening.
Tip: We recommend you the force restart combo for quick results.
2. Reinstall Apple Music & Apple TV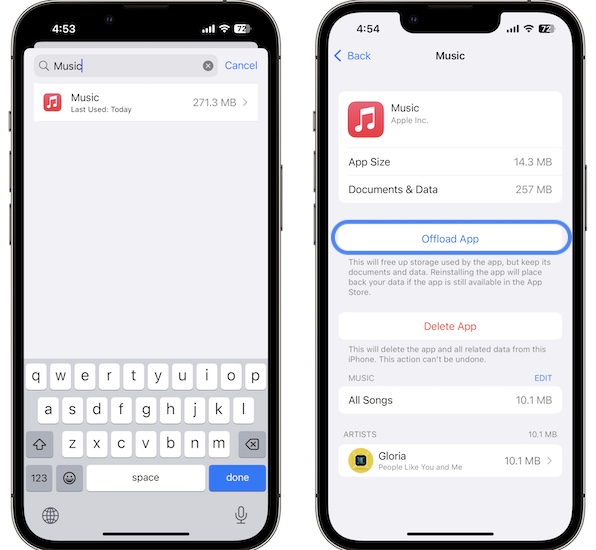 Next, you should remove these apps and install them fresh. You can first apply the offload trick:
How to: Go for Settings -> General -> iPhone Storage -> Apple Music -> Offload App -> Reinstall App.
More: If this doesn't work either, go ahead and Delete App and reinstall it from the App Store (direct link).
3. Clean Install iOS 16
A more extreme troubleshooting option is to reinstall the current iOS 16 version using a computer. This should clean all bugs and corrupted files that might have been carried on when updating over-the-air.
How to: An iOS 16 reinstall step-by-step guide is available here.
Have you managed to fix Apple Music not opening in iOS 16? Do you have a better solution or other problems to report? Share your feedback in the comments.
Related: For more iOS 16.1.2 issues and available workarounds check our detailed review available here.