iPhone Tricks > TILs
Posted in TILs by Maria on November 18, 2023
Apple Watch zoomed in on Lock Screen and won't zoom out? Screen is not readable because items are too large? Device did this by itself and you're not able to revert standard view? You're not the only one!
Apple Watch Zooms In By Itself?
This issue has been reported by Zoey:
"Watch zooms in by itself to maximum and Lock Screen is unreadable. Is this 10.1.1 related, or just me doing something wrong?"
I encountered this unexpected behavior myself a couple of times on a Series 6 running watchOS 10.1.1.
The Watch zooms in accidentally and is stuck on this maxed out view. Reading and navigating is annoying and it can be a hassle to zoom back out.
Apple Watch Zoomed In Fix
If you're encountering the same issue and the double-tap with two fingers gesture doesn't work to zoom out, do the following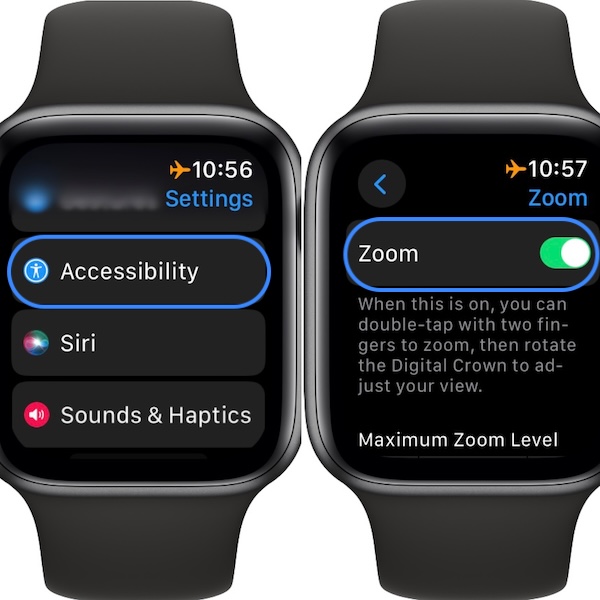 Fact: At the time of writing, Siri is unable to disable Zoom via voice command. The steps provided above are the only option to turn off zoom and regain the normal view on your watch!
Tip: If none of the above works you should also try to force restart the Apple Watch. Click & hold Digital Crown + Side Button until the Apple logo is displayed on the screen. More details here!
Have you managed to fix Apple Watch zooming in on its own? Do you have a better solution or other problems to report? Share your feedback in the comments!
Related: More Apple Watch issues and available workarounds are covered in our watchOS 10.1.1 review.