iPhone Tricks > Errors and Issues
Posted in Errors and Issues by Mike on January 16, 2023
Is the Assistive Touch button not showing up on iPad although feature is enabled in Settings? This issue happens after iPadOS 16.2 update? You're not alone!
Assistive Touch Not Showing On iPad
This problem has been reported by Smutlap (iPadOS 16.2):
"My assistive touch button no longer displays; even though, it's turned on in 'settings'."
We couldn't replicate this unexpected behavior, but have found a similar complaint about Assistive Touch button missing on iPhone 11, running iOS 16:
"My soft key/assistivetouch has disappeared from my screen. assistive touch is still enabled on my phone."
How To Fix Assistive Touch Not Displaying
These are the following troubleshooting steps that we recommend:
1. Reboot iPhone or iPad
First, you should perform a restart of your device. A fresh boot can flush minor glitches and bring back the AssistiveTouch button on the screen.
Tip: Use the force restart combo for optimal results. Depending on your iPhone or iPad model you have to use Volume Up + Volume Down + Side Button combo, or the Home Button + Sleep/Wake button combination.
2. Cycle The Assistive Touch Setting
If the virtual Home Button still doesn't display on your device, try to turn it Off and back On: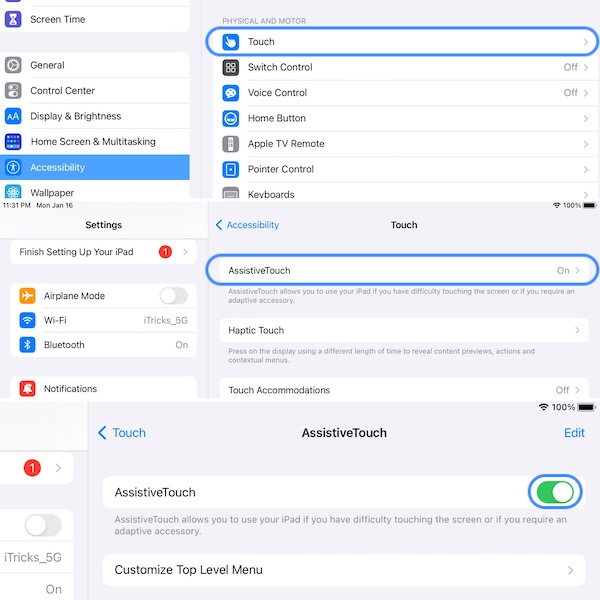 1. Open Settings and go for Accessibility -> Touch.
2. Select AssistiveTouch.
3. Turn it Off.
4. Reboot iPad or iPhone.
5. Turn AssistiveTouch back On!
Have you managed to fix Assistive Touch button missing on iPad in iOS 16.2? Do you have a better solution or an other problem to report? Share your feedback in the comments.
Related: For more iPadOS 16.2 bugs and available fixes check our extended review.