iPhone Tricks > Bug Fixes
Posted in Bug Fixes by Vlad on November 9, 2023
Feedback Assistant not loading on Mac? App is stuck and you can't quit it? Mac won't restart and you can't even install the latest update because Feedback app refuses to close? You're not the only one experiencing it!
Feedback Assistant Not Loading On Mac?
Trying to open Feedback Assistant on Mac but you keep getting the spinning wheel? Status is displayed as Loading… or Loading draft… and nothing else happens no matter how long you wait?
Quit option doesn't work either and Mac refuses to restart because Feedback Assistant is still running in the background?
This just happened to me and I was unable to install the macOS Sonoma 14.1.1 update, because computer couldn't be restarted.
How To Fix Feedback Assistant Stuck Loading On Mac
If you experience a similar issue you can proceed as follows: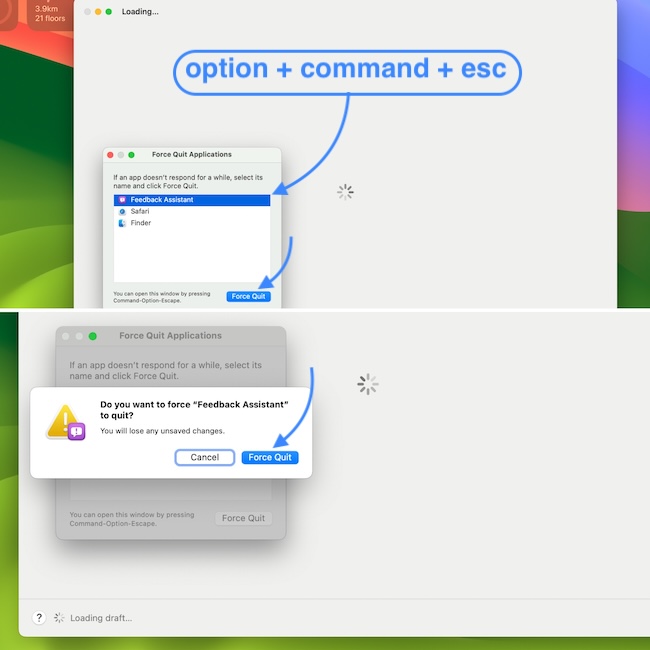 1. Use the option + command + esc combo to bring up the Force Quit panel.
2. Select Feedback Assistant.
3. Click Force Quit.
4. Confirm that you want to force close and the app should finally close.

Tip: You can tell if Feedback Assistant is still running in the background by locking at its icon in the Dock. If there's no black dot under the icon it means that the app is closed!

Fact: Now you can reboot your Mac or simply re-open Feedback Assistant and the app should load properly. You might be asked to sign in with your Apple ID!
Have you managed to fix Feedback Assistant unresponsive on MacBook? Do you have a better solution or other problems to report? Share your feedback in the comments!
Related: More macOS Sonoma issues and available workarounds are available in our latest review.