iPhone Tricks > News
Posted in News by Mike on January 19, 2023
Apple has seeded HomePod 16.3 RC update for HomePod and HomePod mini beta testers! Check out the new features and changes, known issues, bug fixes as well as anything else worth noting!
HomePod 16.3 RC Issues
Known problems, as well as new bugs are tracked here, along with available workarounds:
1. To be updated. (Contribute in the comments!)
HomePod 16.3 Features

According to the release notes the following enhancements are coming with this update:
1. Temperature and humidity sensors are enabled in this update and can measure your indoor climate. Works with HomePod mini and the new HomePod 2!
2. Ambient sounds have been remastered. They are more immersive and can be added to alarms. automations and scenes in the Home app.
3. Find My on HomePod allows you to ask Siri for the location of friends and family as long as they have it shared with you!
4. Recurring Home automations can be set up using just your voice.
5. Siri confirmation tone plays to indicate when smart home requests are completed for accessories that are in a different room or may not visually show a change.

6. Audio tuning feature is able to optimize spoken content (podcasts), for even more clarity. (Available on HomePod 2 and HomePod 1st gen.)
(1st generation)
7. Volume controls updated for HomePod 1 with more granular adjustments at lower volumes.
Other changes spotted in this release are mentioned here:
8. To be updated. (Contribute in the comments!)
HomePod 16.3 Bug Fixes
The release notes also mention bug fixes and stability improvements, however no fix is mentioned. Patches reported by users are listed here:
1. To be updated! (Contribute in the comments!)
HomePod 16.3 RC Download
This update is available, over-the-air, as soon as you enroll your HomePod to the Apple Beta Software Program!
To do this you need to install an iOS 16.x public or iPadOS 16.x public beta version on your iPhone / iPad! More details here.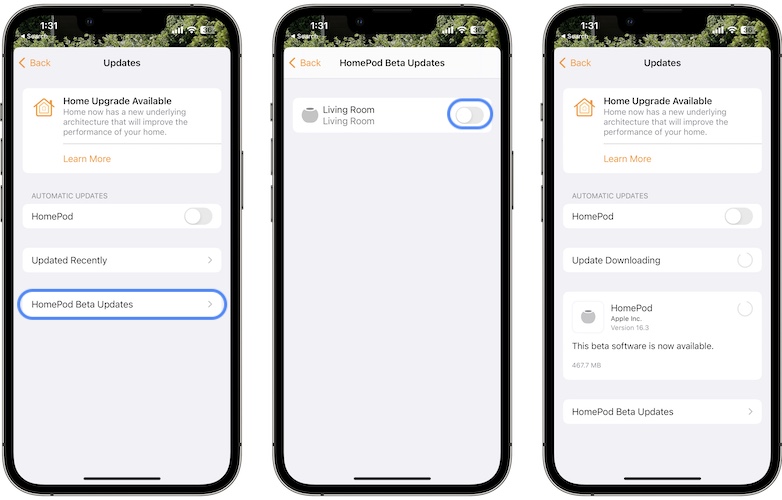 1. Open Home app on iPhone or iPad and go for Home Settings -> Software Update.
2. Tap on HomePod Beta Updates and turn them ON for the desired device.
3. The latest beta will start downloading. Tap Update when it becomes available in the Updates section.

Fact: Be patient until this test version is downloaded, verified and deployed on your device!
Have you installed HomePod OS 16.3 RC? Share your feedback in the comments. Don't hesitate to mention changes, improvements, fixes or new bugs noticed after updating!
Related: Apple has also seeded iOS 16.3 RC and iPadOS 16.3 RC (20D47), macOS 13.2 RC (22D49), watchOS 9.3 (20S648) and tvOS 16.3 RC (20K650).