iPhone Tricks > News
Posted in News by Maria on November 8, 2023
HomePod 17.1.1 update with build number 21K82 is available for the original HomePod and the mini Series! It's a bug fixing release that solves an issue that could cause the speakers to respond slowly or fail to respond at all!
HomePod 17.1.1 Bug Fixes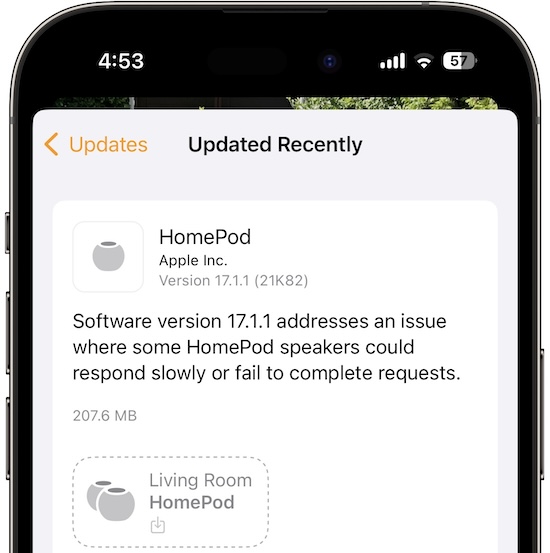 Apple mentions a single fix in the release notes:
HomePod 17.1.1 Issues
These are the bugs reported by early adopters along with available workarounds:
1. To be updated. (Contribute in the comments!)
HomePod 17.1.1. Features
This is a small bug fixing release. It's been unusually issued without and accompanying tvOS 17.1.1 update which most likely means that we can't expect any new features.
Tip: The latest new features available for HomePod are available in our 17.1 review.
HomePod 17.1.1 Update
The release is available, over-the-air, in the Home app on iPhone, iPad or Mac running iOS 17, iPadOS 17 or macOS Sonoma:
1. Open Home on iPhone or iPad and browse for Home Settings -> Software Update.
2. HomePod Version 17.1.1 should show up!
3. Tap Update and be patient until the software is downloaded, prepared and installed!
Have you installed HomePod OS 17.1.1 on your smart speaker? Encountering any issues or questions? Share your feedback in the comments!
Related: Apple has also released iOS 17.1.1, iPadOS 17.1.1, watchOS 10.1.1, macOS Sonoma 14.1.1, macOS Ventura 13.6.2 and HomePod OS 17.1.1!