iPhone Tricks > News
Posted in News by Maria on October 26, 2023
HomePod 17.1 update has build number 21K69 and is available for the original HomePod and the mini Series! It brings new features as well as bug fixes and stability improvements! New and ongoing issues are tracked here too!
HomePod 17.1 Issues
Check out bugs reported by early adopters in case you haven't updated yet:
1. To be updated. (Contribute in the comments!)
HomePod 17.1 Features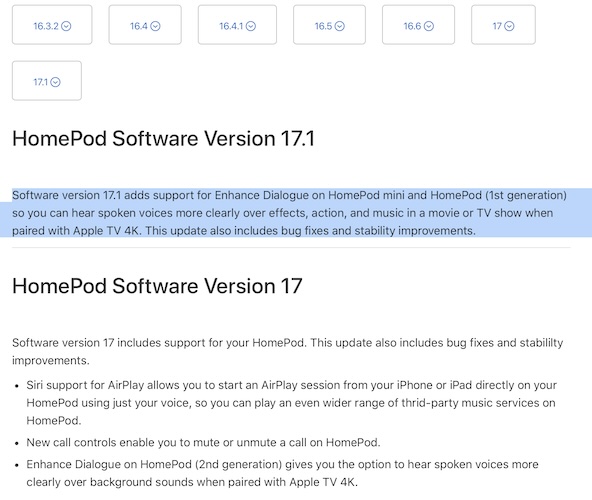 According to Apple's release notes there's a single new feature highlighted for this update:
1. Enhance Dialogue feature that enhances the spoken voices over background sounds when paired with Apple TV 4K has been expanded to the original HomePod and the HomePod mini 1st gen.
HomePod 17 Bugs Fixed
Apple only mentions bug fixes in the update log, without any other details. Issues addressed in this update which are reported by users can be found here:
1. HomePods sound louder when used as stereo pair with Apple TV after this update as reported by a Reddit user. Are you experiencing the same?
2. Apple Music AirPlay bug that caused playback to randomly stop after the first or second song looks to be fixed according to ansky201.
3. To be updated! (Contribute in the comments!)
HomePod 17.1 Download
The update is available, over-the-air, in the Home app. To get it you need an iPhone, iPad or Mac running iOS 17, iPadOS 17 or macOS Sonoma:
1. Open Home app on iPhone or iPad and browse for Home Settings -> Software Update.
2. HomePod Version 17.1 should show up!
3. Tap Update and be patient until the software is downloaded, prepared and installed!
Have you installed HomePod OS 17.1 on your smart speaker? Do you have issues or questions? Share your feedback in the comments!
Related: Apple has also released iOS 17.1, iPadOS 17.1, watchOS 10.1, macOS Sonoma 14.1 and tvOS 17.1.