iPhone Tricks > How To
Posted in How To, TILs by Patricia on January 19, 2023
HomePod Temperature and Humidity not showing sensors not showing after OS 16.3 update? No Climate tab in the Home app and current indoor climate readings are missing from the selected room?
HomePod Not Showing Temperature And Humidity?

This issue has been reported by Vincent (HomePod 16.3 RC):
"Room temperature not showing. Humidity missing too.Why?"
We could replicate this unexpected behavior only when iPhone or iPad we're not updated to iOS 16.3 respectively iPadOS 16.3!
HomePod Temperature And Humidity Sensors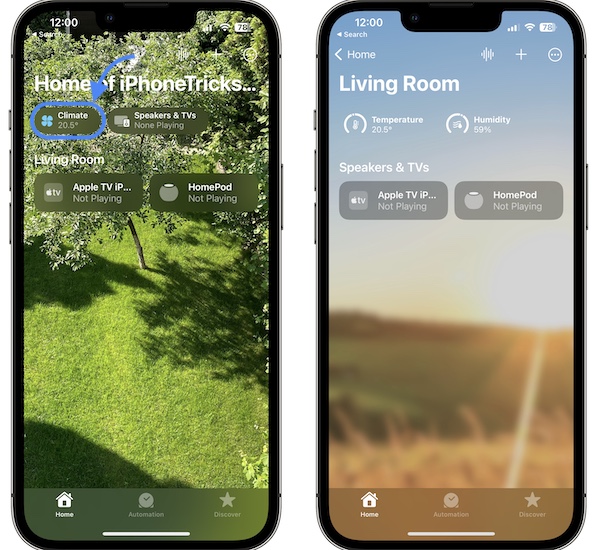 Before you start troubleshooting please be aware that the HomePod climate feature is only available to the HomePod mini and the new HomePod 2.
Important: Apparently, the original HomePod is missing temperature and humidity sensors!
How To Fix HomePod Temperature And Humidity Not Showing
If you own the appropriate hardware, have updated to HomePod 16.3 and are still not seeing Temperature and Humidity readings in the Home app, be aware that iPhone, iPad and Mac have to be updated to iOS 16.3, iPadOS 16.3, macOS Ventura 13.2 or later!
Tip: Apple's wireless smart speaker requires up to 30 minutes to calibrate before it starts showing room temperature and humidity! If you updated recently, please be patient!
1. Include in Home Summaries
This settings should be enabled by default, but if you played around with it here is how to activate:

1. Open Home app and tap on the HomePod that you want to show Climate data..
2. Scroll for Settings and tap Accessories.
3. Go for HomePodSensor name and tap on Status.
4. Turn On Include in Home Summaries.
5. Make sure that the same setting is selected for the HomePod humidity sensor too!
2. Restart HomePod
If everything is properly set but HomePod is still not showing temperature and humidity readings, reboot it. A fresh start could flush any minor glitches that could prevent the sensors from working properly.
How to: Home -> HomePod name -> Settings -> Reset HomePod -> Restart HomePod.
Have you managed to fix HomePod not showing Temperature and Humidity values? Do you have a better solution or a similar problem to report? Use the comments!
Related: For more HomePod 16.3 issues and available workarounds check our detailed review available here.