Google Chrome has several great features, which help it make the most popular browser on the internet. As a part of its 15th anniversary, Google rolled out a Material You redesign for Chrome, which is slowly rolling out to all. If you don't like Chrome's new look though, you can get back the old look. Follow this guide to learn how.
What is Google Chrome's Material You Design All About?
Google Chrome's new UI is based on the Material You design language. This is the same design language that the company uses on Android and across several of its services. The new design uses different colors to give the browser a more modern look and feel. You can personalize the UI's color easily to give it a taste you like.
If you are looking to reduce unwanted clutter in your browser, consider disabling trending searches in Google Chrome.
How to Disable Google Chrome's New Material You Design
Material You does offer a lot in terms of functionality and personalization. However, you might still want to go back to the old design in Chrome as you've been used to it after all these years. Luckily, disabling the new interface is a lot easier than expected. Follow these steps.
Open Google Chrome on your PC.
Head to the address bar and type in "chrome://flags/" to reveal additional settings.
In the search bar, type "2023."

Click the drop-down menu beside any entry with Chrome Refresh 2023 and select Disabled.

Re-launch Google Chrome for the changes to take effect.
Do note that these steps are only for Google Chrome on Windows and Mac. They will not work on the browser's Android version. 
Check out the best Google Chrome extensions to add new features and personalization options to the browser. 
How to Customize Google Chrome'a New Material You Design
One of the best things about Google Chrome's new Material You design is that it makes customizing the browser a lot easier. If you choose to keep the new design and you want to personalize it, follow these steps:
Open Google Chrome.
Look for the pen icon at the bottom right of the screen and click.

A new menu pop-up will appear on the right side of the screen. You can adjust your browser's various appearance settings from this menu.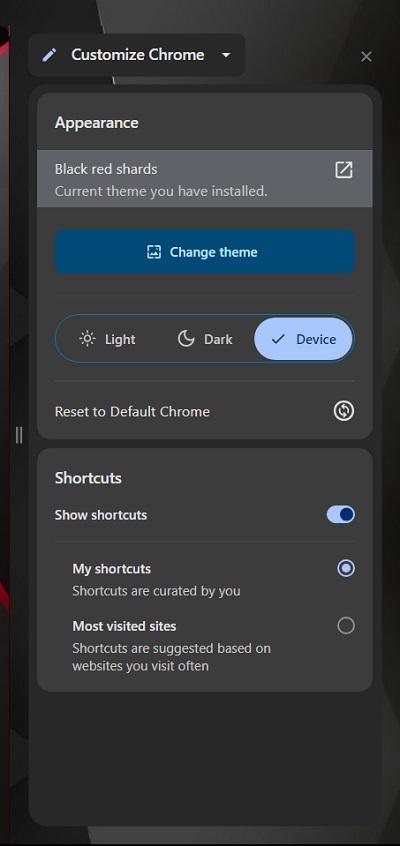 Enjoy Google Chrome Your Way
Google Chrome's new looks might not be for everyone but the wealth of customization options it gives can be enticing to some. Regardless of what you choose, it's great to have the knowledge of how you can enable or disable the Material You design for the browser. If you want to push your browser to its limits even further, here's how you can sign PDFs using Google Chrome.
FAQs
Q: Will Google Chrome phase out the old design?
A: We don't know yet but the new Material You design is in the experimental stage as of now. If all goes well, it's likely that Google will roll out an update that will completely phase out the old design.
Q: Where can I get new Google Chrome themes?
A: You can get new Google Chrome themes from the Chrome Webstore. Aside from themes, you can also upload your own background photos to further personalize how your browser looks.
Q: Why is my Google Chrome still in the old design?
A: The new Material You design is available to Chrome 117 and later. Try updating your browser first so that you can get the new design.