Becoming a Discord mod is more than adding the right bots to your server to streamline the experience. Sometimes, you'll also have to be mindful of your members to check if they're breaking any rules. Unfortunately, some people on Discord delete or edit their messages after sending them to avoid getting reprimanded by moderators. As such, it's essential to know if you can see deleted messages on the platform. And if there's a way to know who deleted a chat after sending it. Follow this guide to learn how.
Can You See Deleted Messages on Discord?
No, it is not possible to see deleted messages on Discord. This is true even if you are a Discord server owner — there's no built-in way to do it. However, there's a way to see who has deleted a message on a Discord server, though it requires installing a third-party plugin. 
How to See Who Deleted a Message on Discord
If you're using Discord on your computer, you should download BetterDiscord. This is a third-party app that adds many new features to Discord. This includes using custom themes, additional customization themes, and even the ability to see deleted messages. Download and install BetterDiscord and then follow the below steps.
Head to GitHub and download MessageLogger V2.
Open Discord.
Click the gear icon.


Scroll down to BetterDiscord and click Plugins.


Click Open Plugins Folder.
Drag the MessageLogger file to the plugins folder.

Head back to the Plugins settings on Discord and enable MessageLogger.

After enabling, download ZeresPluginLibrary and XenoLib from the pop-up menu that appears.

Click Open Plugins Folder and copy ZeresPluginLibrary and XenoLib files to it.

Head back to the Plugins settings on Discord and enable XenoLib and ZeresPluginLibrary.

Look for the server you want to see deleted messages from.
Right-click it, select Message Logger, and then Open Logs.


Check for deleted messages under the Deleted tab.

MessageLogger lets you check for deleted messages on any server and not just the ones you are a moderator of. Unfortunately, MessageLogger can only see the deleted messages after installing the plugin. You can't see deleted chats before installing the plugin.
After catching the person who deleted a sent message, consider banning them from your Discord server.
How to See Deleted Messages on Discord From Android or iPhone
BetterDiscord and MessageLogger aren't available for Discord on Android or iPhone. However, there is still a way to check for deleted messages at least on Android. You can use a third-party app called BlueCord. Download and install the APK, and then follow these steps.
Open BlueCord.
Login to your account.

Select your profile icon on the bottom right.
Tap Bluecord Mods.


Select Chat and when prompted, don't allow access to your device's files.
Tap Anti Message Delete.


Enabled Block Delete + Log.

Once done, any recently deleted message on a server will be visible until you close the Discord app. Like MessageLogger, you see any deleted chats in Discord prior to installing BlueCord.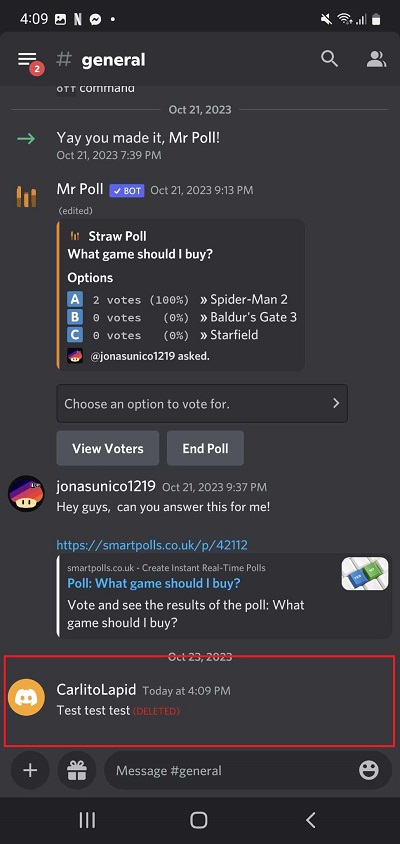 Create a poll in Discord if you are unsure of using a third-party plugin to track who deletes a message on your server.
Keep Track of All Messages
Discord natively does not provide any way to see deleted chats. But by using third-party plugins, you can at least see who has deleted a message on Discord. If you are a mod on a Discord server or channel, this will help you keep things organized. 
If you want to lighten your Discord management load, here's how you can delete servers or channels on Discord.
FAQs
Q: How to delete a message on Discord?
A: If you're using the Discord desktop app or website, right-click on the message and delete the message from there. For the mobile app, long-press the message and tap delete.
Q: How to recover a deleted message on Discord?
A: There's no way to recover any deleted messages on Discord. There's also no natural way to see any deleted messages without using a bot or a third-party app.
Q: Can I delete the messages of others on Discord?
A: Yes, you can, but only for servers and channels you are a moderator of. If not, you can only delete the messages that you sent.