iPhone Tricks > News
Posted in News by Patricia on January 25, 2023
iCloud Drive not turning On in iOS 16.3 and iPadOS 16.3? Feature has been automatically disabled after update and the 'An Unknown Error Occurred. Please try again later' popup shows up every time you want to enable it?
iCloud Drive Not Working iOS 16.3?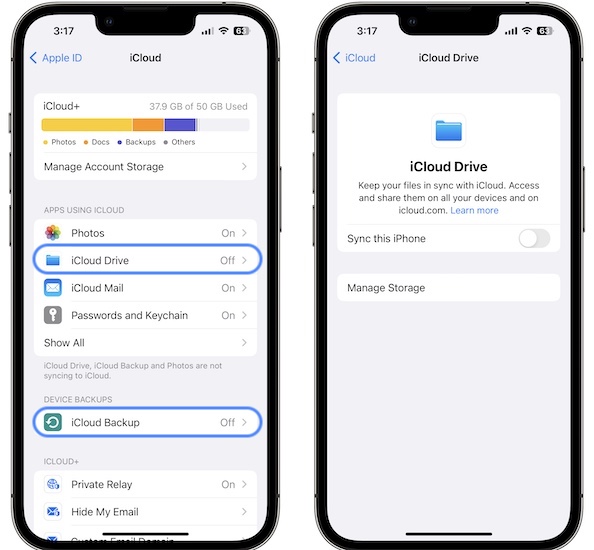 This issue has been reported by Terence:
"The iPadOS16.3 update has switched off iCloud Drive and iCloud Backup and gives a message of Unknown Error when you try to switch them back on."
We couldn't replicate this problem but Link has also complained about the same unexpected behavior:
"After updating to iOS 16.3, I can no longer access my iCloud drive. The iCloud drive toggle is off after the update, and a message saying "An unknown error occurred. Please try again later." pops up each time I try to toggle it to on."
Are you experiencing the same problem? Share it in the comments along with any useful details that could help us identify the trigger.
How To Fix iCloud Drive Not Turning On
Until we have more info, please try the following troubleshooting options:
1. Reboot iPhone or iPad
A fresh start can flush minor glitches and often do miracles.
Use the force restart combo: Click Volume Up, followed by Volume Down and press & hold the Side button until the Apple logo is displayed on the screen!
2. Sign Out and Back in to iCloud
If the Unknown error occurred popup continues to show up when you try to enable iCloud Drive or iCloud Backup try to sign out from your iCloud account, reboot iPhone and sign back in with your Apple ID:
Do this is Settings -> Apple ID scroll for Sign Out.
Force restart iPhone as described at step 1.
Return to the Settings -> Apple ID and sign back in!
3. Toggle Advanced Data Protection Feature
Apple has introduced the advanced iCloud data protection feature in iOS 16.2. If you enabled it before the 16.3 update it might cause this iCloud Drive problem. Turn it off and let us know if it helps:
1. Open Settings -> Apple ID -> iCloud.
2. Scroll for Advanced Data Protection.
3. Turn Off Advanced Data Protection.
Have you managed to fix iCloud Drive and iCloud Backup not working after iOS 16.3 update? Do you have a better solution? Share your feedback in the comments please.
Related: For more iOS 16.3 issues and available workarounds please check our detailed review. iPadOS 16.3 review is available here.