iPhone Tricks > Errors and Issues
Posted in Errors and Issues by Mike on December 27, 2022
Home invite not working after iOS 16.2 update? Users can't access Home, to control accessories, after you updated the app's architecture? You're not alone and Apple knows it!
iOS 16.2 Home Issues?
This unexpected behavior has been reported by Roy:
"My family can't access Home anymore after I updated to the new home architecture. What to do?"
We could replicate the issue and have found numerous similar complaints across the web on Apples' Discussion forums, Reddit and others.
In fact, iOS 16.2 Home problems are so widespread that Apple has decided to pull the new architecture update altogether, as we previously reported.
How To Fix iOS 16.2 HomeKit Not Working
Apple has published a support document with a workaround for the cannot access Home and Home invite not working problems:
1. On the invited iPhone, open the Home app and tap More (three-dots), to see the list of homes.
2. Remove Homes that don't have accessories.

How to: Tap a home to select it -> Go for More -> select Home Settings -> scroll until your reach Remove Home.

Important: Apple informs that if the invited user has a home with accessories, Apple Support has to be contacted.

3. Restart iPhone or iPad, and reboot all Apple TV and HomePod devices in the home.
4. On the home owner's iPhone or iPad, open Home app and remove pending invitations!

How to: Tap More -> select Home Settings -> tap the guest's name -> tap Cancel Invitation.x

5. Resend invitation to share control of the home to the same user.
Extra Fix For iOS 16.2 HomeKit Problems
Another way to troubleshoot users not able to access homes requires you to rename home: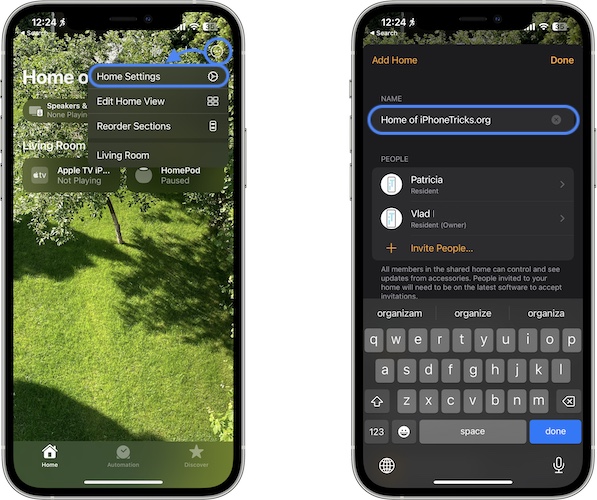 1. On the home owner's iPhone or iPad open the Home app.
2. Tap More, three-dots in the top-right corner of the screen.
3. Go for Home Settings.
4. Tap the current name and you will be able to edit the field.

Fact: Accessories should pop up in the Home app a few moments later. Credits for this fix to this Reddit user.
Have you managed to fix Home problems after iOS 16.2 and architecture updates? Do you have a better solution or other problems to report? Share your feedback in the comments.
Related: For more iOS 16.2 bugs and available workarounds check our detailed iOS 16.2 review.