iPhone Tricks > News
Posted in News by Patricia on November 8, 2023
iOS 17.1.1 update is available for download for iPhone XS and later models! It comes with build number 21B91. It brings bug fixes and security improvements for the iPhone 15 Series as well as all other compatible devices!
iOS 17.1.1 Bug Fixes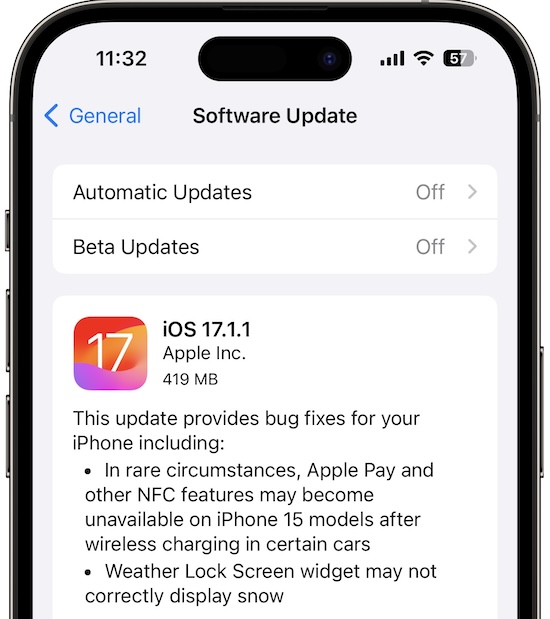 Apple mentions in the release notes two issues that have been addressed:
1. Apple Pay not available on iPhone 15 models after charging the device wirelessly in some cars has been fixed!
2. Weather widget not displaying snow correctly on Lock Screen has been addressed.

Can you confirm these fixes? Share your feedback in the comments!

More Fixes

Other problems solved and reported by users are tracked here:

3. To be updated. (Contribute in the comments!)
iOS 17.1.1 Issues
Problems reported by users for this version, along with available workarounds are updated here:
1. iPhone Attempting Data Recovery during the update is a behavior reported ever since the iOS 16 update cycles by some users.
Tip: be patient! It will fix itself!

2. Reminders widget not working for this user. Are you having similar problems? Share your feedback in the comments!
3. Volume buttons not working with third-party apps is still an issue in this version too.
To be updated. (Contribute in the comments!)
iOS 17.1.1 Security Improvements
Apple hasn't published the security content document for this update yet. We will update it here as soon as it becomes available. You can check it yourself here.
iOS 17.1.1 Features
There are no new features mentioned in the release notes. This release seems to focus on bug fixing! Nevertheless, any changes reported by users are highlighted here:
To be updated. (Contribute in the comments!)
More: the most recent new features added by Apple have been discusses in the previous update, iOS 17.1.
What's your favorite iOS 17.1 new feature? Did you spot one that's not mentioned in this article? Share it in the comments!
Important: iPhone 15 burn in display is fixed in iOS 17.1 too. More info here!
iOS 17.1.1 Update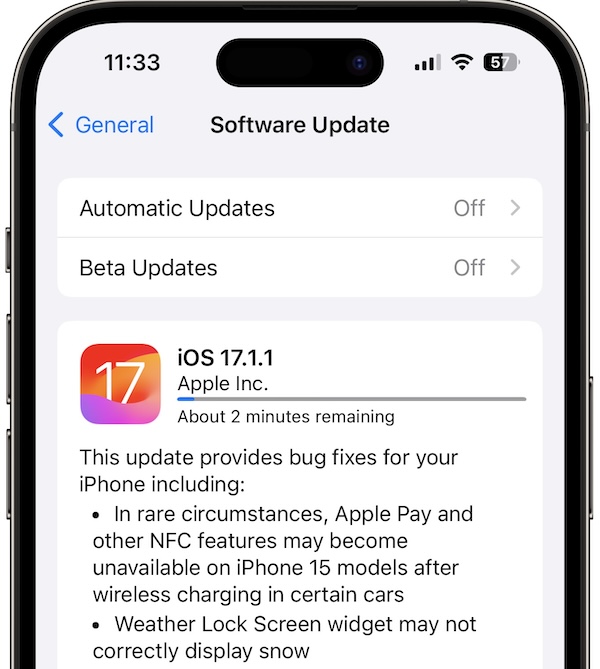 This new version is available, over-the-air, and/or wired via computer and Finder (on Mac) or iTunes (on Windows):
1. Open Settings -> General -> Software Update on an iPhone XS or later.
2. iOS 17.1.1 should show up on the Software Update screen.
3. Tap Update Now!
4. Agree with ToS, input Passcode and be patient until the new software is requested, downloaded, prepared, verified and installed on your device!
Related: Apple has also released iPadOS 17.1.1, watchOS 10.1.1, macOS Sonoma 14.1.1 and macOS Ventura 13.6.2!