iPhone Tricks > News
Posted in News by Mike on December 13, 2022
Apple has released iPadOS 16.2 build number 20C65 for all compatible iPad models! This update brings new features, improvements as well as bug fixes and security patches. Check them all out here along with known issues and new problems!
iPadOS 16.2 Issues
Before you update you might want to check the problems reported for this version. We've tracked them here along with available workarounds:
To be updated. (Contribute in the comments!)
iPadOS 16.2 Features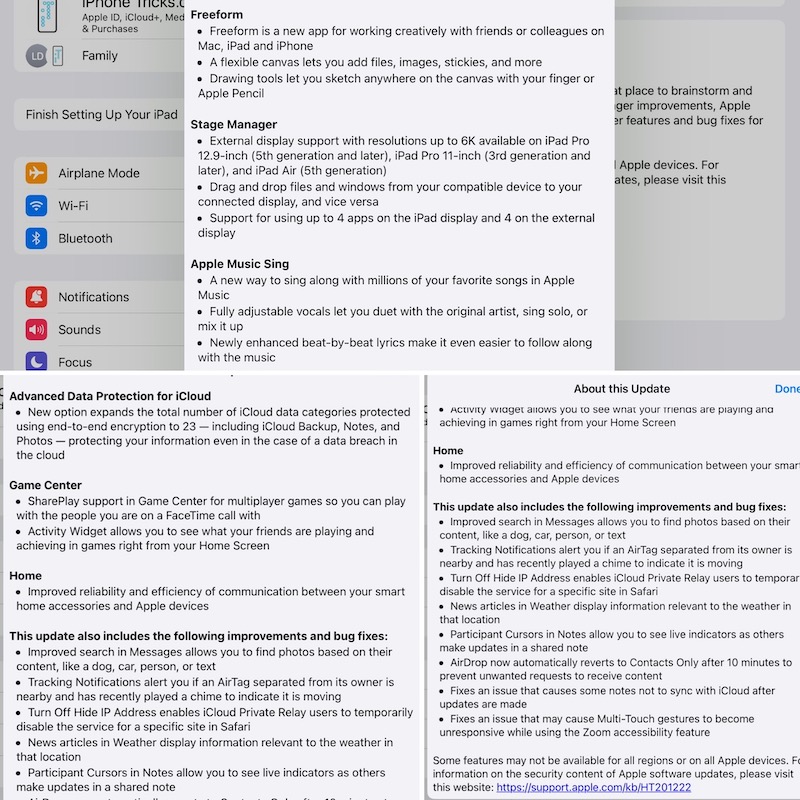 Check out all changes and improvements included in this update:
1. Freeform – for iPhone, iPad and Mac. It's a whiteboard app for sketching, drawing, notes and more. It emphasizes collaboration between participants.
2. Stage Manager – for iPad with External Display – Stage Manager is back to M1 and M2 iPads connected to an external display. Up to 8 apps can be used for multitasking. A new option allows you to drag a window from ‌iPad‌ to an external display and vice versa.
3. Apple Music Sing – An all new karaoke experience for you and your family available on iPhone, iPad and Apple TV. More details here.
4. Advanced Data Protection for iCloud – up to 23 iCloud data categories encrypted end-to end including Backup, Notes and Photos. (Requires software update to all devices connected to your Apple ID, to be enabled.). More details here.
5. Game Center – Share Play support and Activity Widget for Home Screen.

6. Home – New app architecture provides faster and more stable performance in homes with many smart accessories. It comes hand in hand with the new Matter standard.
7. Search photos in Messages targeting content like objects, animals, or people from the image..
8. AirTag Tracking Notifications when the tracker, that's separated from its owner is nearby and has recently played a chime to indicate it is moving.
9. Temporary Disable iCloud Private Relay for a specific site in Safari using Turn Off Hide IP Address.
10. News Articles in Weather provide info about weather in that location.
11. Participant Cursors in Notes show live info when participants update a shared note.
12. AirDrop Everyone for 10 Minutes instead of AirDrop Everyone limits the time that a device is exposed to receiving airdrops from any other nearby Apple device.
13. To be updated. (Contribute in the comments!)
iPadOS 16.2 Bugs Fixed
More than 10 issues have been reported for iPadOS 16.1.1. Those that have been fixed are listed below:
1. Notes not syncing with iCloud after updates are made. (Confirmed in the release notes.)
2. Multi-Touch gestures unresponsive when Zoom is enabled. (Confirmed in the release notes.)
3. To be updated. (Contribute in the comments!)

Fact: Yo can review the security fixes included in this version in Apple's support document available here.
iPadOS 16.2 Update
Have you updated iPadOS 16.2 on iPad? Did you spot any other changes not mentioned in this article? What about other bugs fixed or new problems no covered yet? Share your feedback in the comments and we will try to provide the best workarounds!
Related: Apple has also rolled out iOS 16.2 (20C65), macOS Ventura 13.1 (22C65), watchOS 9.2 (20S361), tvOS 16.2 (20K362) and HomePod 16.2!