iPhone Tricks > News
Posted in News by Mike on October 19, 2023

The iPadOS 17.1 features, improvements and bug fixes have been published by Apple in the release notes of the RC version. You can check them out here along with common issues and their available workarounds!
iPadOS 17.1 Features
Apple highlights seven changes and improvements in the update log: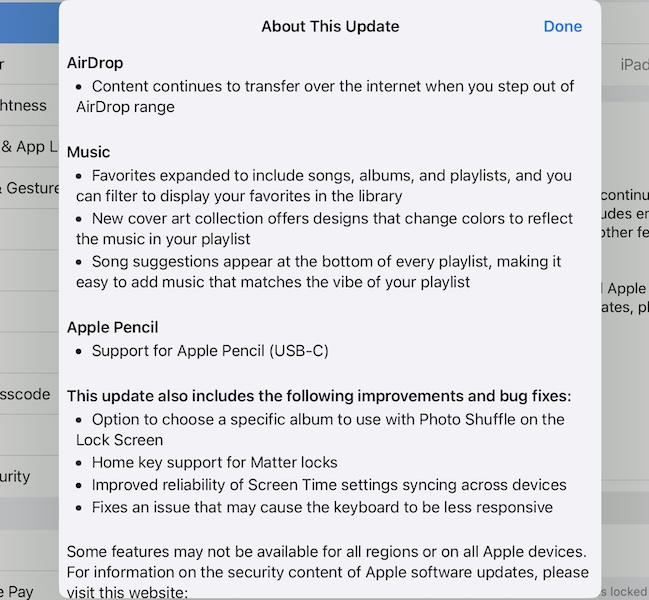 iPadOS 17.1 Release Date
We expect version 17.1 to be released next week, as early as Monday, October 24. Stay tuned for updates!
iPadOS 17.1 Bug Fixes
Apple mentions two fixes in the update log: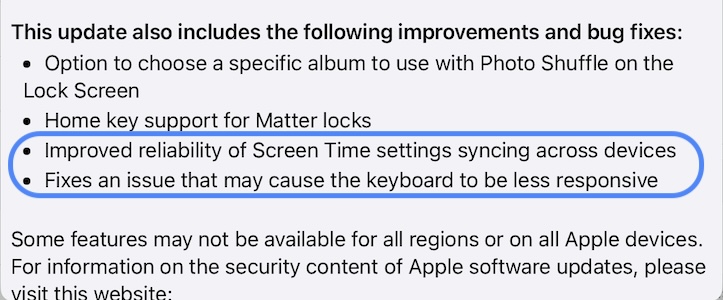 1. Keyboard unresponsive or less responsive has been fixed according to the release notes!
2. Screen Time settings not syncing across devices has been addressed.

Other iPadOS 17.1 Fixes

Other solved issues reported by users are:

3. To be updated. (Contribute in the comments!)

Fact: Common iPadOS 17 issues are tracked here. You can check them out and let us know if you notice any fixes!
iPadOS 17.1 Security Fixes
The security content of this update will be published after the public release and will be updated here!
iPadOS 17.1 Issues
Problems reported by users for this version are tracked here:
1. To be updated. (Contribute in the comments!)
iPadOS 17.1 Download
The Release Candidate version of this update is currently available, over-the-air to all compatible iPads!
Important: Apple recommends installing beta software versions on a secondary device!
How To:
1. Go for Settings -> General -> Software Update -> Beta updates.
2. Select the iPadOS 17 Developer Beta or iPadOS 17 Public Beta option!
3. Click Upgrade Now as soon as watchOS 10.1 shows up on the screen!
4. Agree with terms, enter the passcode and be patient until the new software is requested, downloaded, prepared, verified and installed on your device!

Have you updated watchOS 10.1 on Apple Watch? Do you have any questions? Want to report new features, bug fixes or known issues? Use the comments section available below!

Related: Apple has also released iOS 17.1 RC , watchOS 10.1 RC, macOS Sonoma 14.1 RC, tvOS 10.1 RC and HomePod 17.1 RC.