iPhone Tricks > Errors and Issues
Posted in Errors and Issues by Patricia on December 15, 2022
Seeing No Weather Data error message on iPhone? Home Screen Weather widget not working after iOS 16.2 update? Same issue occurring on iPad or Mac after iPadOS 16.2 and macOS Ventura 13.1 updates?
No Weather Data iOS 16.2?
This problem has been reported by Lena:
"Weather widget not working on home screen anymore after this update! any tips?"
We couldn't replicate this issue yet, but have found numerous similar complaints on Reddit:
1: "iOS 16.2 blank weather widget".
2: "Weather widget keeps on showing no weather data even though the city is selected – on 16.2."
3: "there is no more weather data."
Such a big number of complaints in a short period of time hints at the global Apple Weather outage!
However, this theory isn't confirmed by the Apple System Status page, which doesn't report any ongoing or resolved outages for Weather, although there have been 9 issues resolved today, as you can notice in the below screenshot!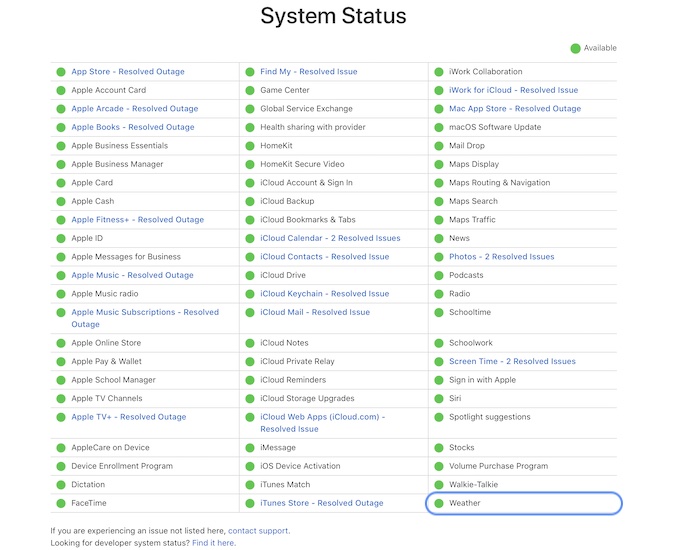 How To Fix Weather Widget Not Working
Until we have more details, here is what you can do to solve this issue:
1. Tap Widget
In some cases, it's enough to tap the widget to open the Weather app.
Wait until the forecast is updated and return to the Home Screen.
Does the widget work now?
2. Re-Add Widget
If problem continues, remove the Weather widget and add it back. You can do this from the Home Screen edit menu:
1. Touch & hold Home Screen until apps start to jiggle.
2. Tap the '-' icon, in the top-left corner of the Weather widget.
3. Next, tap the '+' icon, in the top-left corner of the screen.
4. Search for Weather and swipe for the desired Widget size.
5. Add Widget and tap Done.
3. Select Location Manually
The next troubleshooting option is to tweak Weather location from My Location (which uses your iPhone's Location Services) to a predefined city:
Touch & hold the Weather widget.
Select Edit Widget.
Tap on My Location.
Pick a city from the list or search for it. Does it help?
Have you managed to get rid of the No Weather Data error in iOS 16.2? Do you have a better solution or other problems to report? Share your feedback in the comments!
Related: For more iOS 16.2 issues and available fixes check our detailed review!