iPhone Tricks > News
Posted in News by Patricia on October 2, 2023
Noise Cancellation with one AirPod keeps turning Off in iOS 17 and even iOS 16? You're enabling the setting but it keeps resetting itself to the Off state randomly? You're not the only one affected!
Noise Cancellation With One AirPod Turning Off Randomly?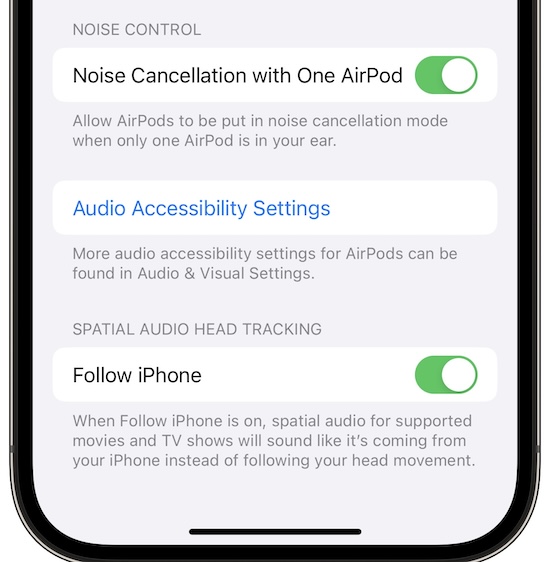 This issue has been reported by Susan:
"Not sure if it's related to this update but the 'Noise cancellation with one airpod' option keeps disabling itself on my iPhone."
We've seen numerous similar complaints on Reddit (1 and 2) and Apple's Discussion forums (1 and 2).
Fact: This unexpected behavior has been reported ever since 2021. It's been occurring in iOS 16 too. This isn't a new iOS 17 bug! It's also not limited to iPhone, but occurring on iPad and Mac too!
How To Fix Noise Cancellation With One AirPod Not Working
It might not be a bug at all, but just a problem of synchronization. Here is what you can do to fix it:
1. Avoid iCloud Logouts
Apparently, this Accessibility setting automatically resets to the default state which is Off every time you sign out of your iCloud account on a device.
Tip: After you sign back in you have to go back to Settings -> Accessibility -> AirPods -> [AirPods name] and re-enable the Noise Cancellation for one AirPod feature!
Credits: Thanks ForeverDank for sharing this finding!
2. Enable On All Devices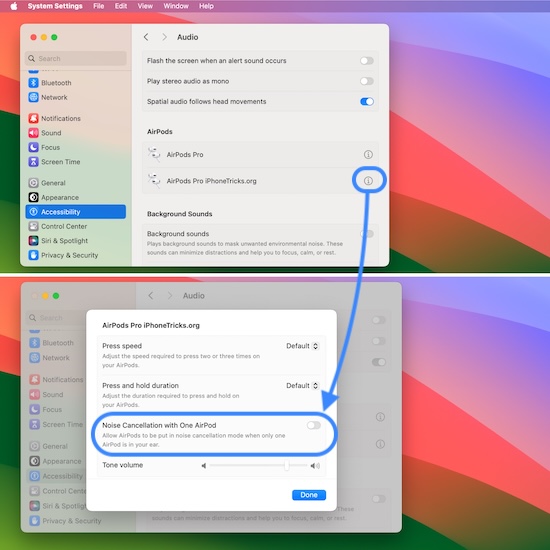 If Noise Cancellation with one AirPod is enabled across all your devices it will fail to work when AirPods automatically switch from one device to the other.
We recommend you to enable the option in Settings on iPhone, iPad, Mac. That's basically all devices that are linked to your iCloud account!
Tip: In macOS this is done in System Settings -> Accessibility -> Audio -> [AirPod Name] -> Noise Cancellation with one AirPod.
Does the above help? Have you managed to prevent Noise Cancellation with one AirPod from turning off unexpectedly?
Do you have a better solution or other problems to report? Share your feedback in the comments!
Related: Getting AirPods Setup Incomplete error in Find My? Here is how to fix it!