iPhone Tricks > News
Posted in News by Tyrone on September 29, 2023
Safari 17 is available as a standalone update for Macs running macOS Ventura and Monterey! It's a significant update that brings new features and security updates to Safari on computers that haven't been updated to macOS Sonoma!
Safari 17 Issues
Bugs and problems reported for this version by early adopters are tracked here:
1. Safari profiles not showing up as expected. Two windows instead?
Fix: You have to switch off Compact and the tab will show up!
2. YouTube crashes Safari randomly. Reported by electric-sheep.
3. To be updated. (Contribute in the comments!)
Safari 17 Features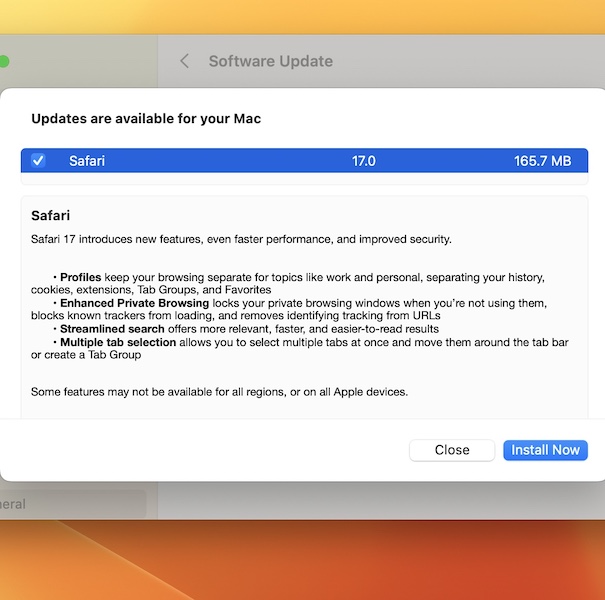 Enhancements and improvements are mentioned here:
Safari 17 Security Updates
This release addresses five vulnerabilities according to the support document published by Apple!
Fixes: Most issues have been patched with improved checks, handling, state management and sandbox enforcement.
Safari 17 Download
This update shows up as a standalone update on Macs that aren't updated to macOS Sonoma and are compatible with Ventura and Monterey. It should show up alongside macOS Ventura 13.6 and macOS Monterey 12.7:
1. Open System Preferences and go for Software Update
2. Version 16.7 should show up.
3. Make sure it's selected and click Update Now.
4. Input Mac password and be patient until the new software is requested, downloaded and installed!
Have you installed Safari 17.0 update on Mac? Do you have problems to report? Don't hesitate to ask your questions in the comments!
Related: The previous version has been Safari 16.6.1 and it's been reviewed here!