iPhone Tricks > Errors and Issues
Posted in Errors and Issues by Mary on October 5, 2023
Stickers not working on iPhone after iOS 17 update? App crashing in Messages when opening, or shows a blank screen? Stickers not showing in the Frequently Used section of the Emoji keyboard either? You're not the only one affected!
Stickers Not Working iOS 17 Bug?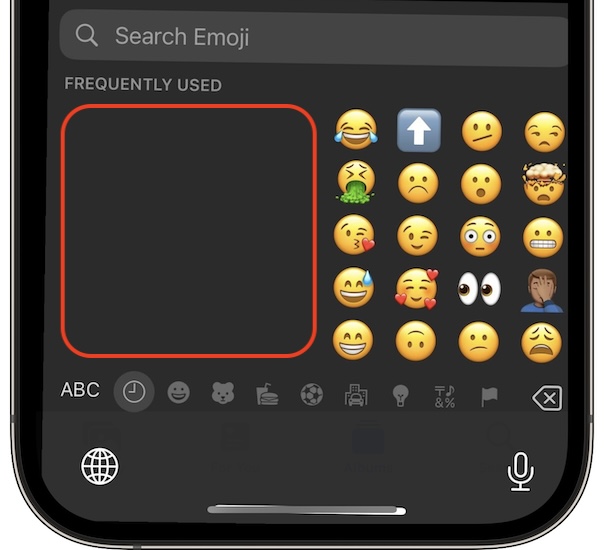 This issue has been reported by Cynthia:
"Stickers app not opening in Messages. stickers are also not available in the Emoji keyboard, it's just a blank section!"
We could not replicate the problem but have found similar complaints on Reddit:
1:
"Stickers worked great in iOS 17 on my 14 pro. I upgraded to my 15 Pro and the stickers app no longer works. Hasn't worked on 17.0.X."
2:
"Same issue. 15 Pro. Can't create in Photos. Can't launch in iMessage. And if I try to use the stickers in recents, nothing happens."
3:
"Same issue happening here since I upgraded to an iPhone 15 pro on Friday from my iPhone 12."
How To Fix Stickers Not Working On iPhone?
This appears to be another iOS 17 bug, perhaps one of the most annoying one left, after the overheating bug got fixed in the iOS 17.0.3 update!
According to this Reddit user, Apple is aware of the problem and is working on a fix which should be provided in an upcoming update, most likely iOS 17.0.4 or iOS 17.1 (currently beta tested).
Until then you might want to try the following troubleshooting options:
1. Cycle iCloud Account
This user informs that signing out of iCloud, reboot iPhone and logging back into iCloud would fix the issue!
Downside: You will lose all previously created stickers. Problem will reoccur if you don't repeat the process across all devices that are connected to your Apple ID!
Update: Apparently the issue will come back anyway. The problem seems to be related to syncing stickers across devices. So as soon as this happens it will result in an error at the stickers app goes blank or crashes when opening!
It seems that we all need to wait for Apple's software solution!
Have you managed to fix Stickers not working iOS 17 bug? Do you have a better solution? Share it in the comments and we will update it to everyone!
Related: More iOS 17.0.3 issues and available workarounds are available in our extended review.