iPhone Tricks > News
Posted in News by Tyrone on January 7, 2023
Put back not working in Trash on Mac? You're getting '[file name] could not be put back because file doesn't exit anymore'? This started after macOS Ventura update? Here is what to do!
Mac Trash Put Back Not Working?
This issue has been reported by Zoe:
"Unable to recover screenshots from Trash after this update. Getting 'file doesn't exit anymore', but it's obviously available in the trash folder."
We couldn't replicate this issue, but have found similar complaints about put back option missing from files available in Trash on Reddit:
"No option to "put back" deleted file in trash."
Workaround For Trash Put Back Not Working On Mac
If you're unable to recover files from Trash, use the drag & drop workaround: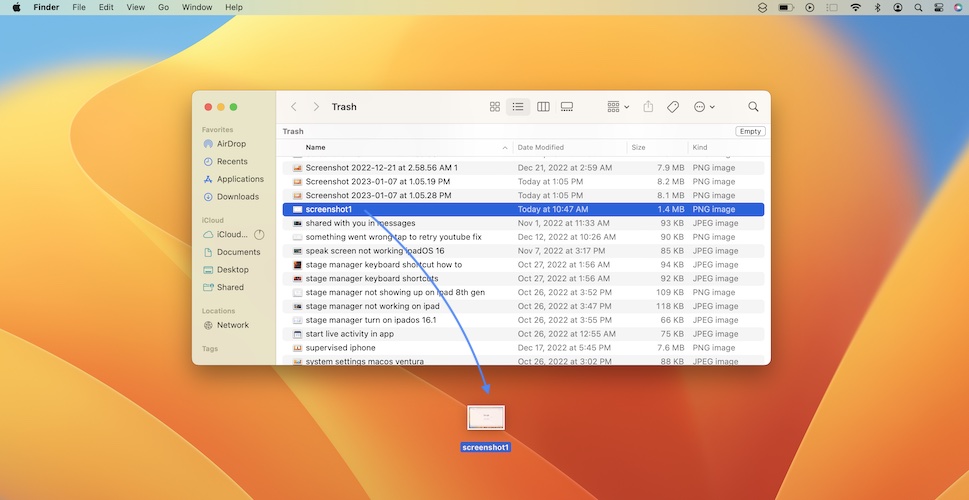 Simply, click the file that you want to recover and drag it outside of the Trash window and drop it on the Desktop!
This workaround should work when 'Put Back' option is missing completely or when it return the 'could not be put back' error!
Fact: We've noticed that screenshots are the files most likely to return this error, especially those that haven't been edited!
Other Fixes For Put Back Missing On Mac
1. Force quit Finder from Dock (right-click Finder icon) and relaunch to see if it helps.
2. Reboot Mac.
Have you managed to fix Trash put back functionality on Mac in macOS Ventura? Do you have a better solution or another problem to report? Share your feedback in the comments.
Related: For more macOS 13.1 issues and available fixes check our detailed review.