iPhone Tricks > Errors and Issues
Posted in Errors and Issues by Maria on November 13, 2023
Getting Unable To Install Netflix on iPad, iPhone or Apple TV? You're asked to try again later, but the same error pops up in a loop? You're not the only one experiencing this issue!
Unable To Install Netflix On iPad?
This problem has been reported by Monica:
"Can't install Netflix on iPad? Getting unable to install error all the time!"
We've found similar complaints on Reddit as this appears to be a common issue, especially if your owning an older Apple device!
How To Fix Unable To Install Netflix Error
Here are the most common ways to solve this unexpected behavior:
1. Update Software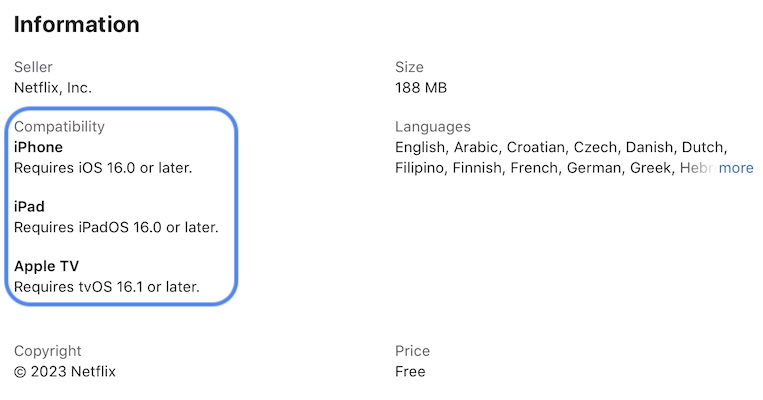 In most cases, the problem is caused by a software limitation determined by a recent Netflix update!
According to the app's info page in the App Store: iOS 16 or later, iPadOS 16.0 or later, tvOS 16.1 or later are required for Netflix on iPhone, iPad and Apple TV!
Tip: Check the software version on your device in Settings and perform the required update if you're running an outdated OS.
Fact: Apparently for now older Apple devices that aren't compatible with the above mentioned software versions are able to still run an older Netflix version, as long as the third-party app is already installed on the device.
2. Reinstall App
Other users inform that they had to redownload and install Netflix from the App Store!
This works if Netflix is available on your Home Screen and it's offloaded. If you see a cloud next to the Netflix app icon and tap it to download the app it might trigger the Unable to Install Netflix error.
In this case you can try to delete the app and reinstall it from the App Store.
Tip: You can use the offload feature available in Settings -> General -> iPhone Storage -> Netflix -> Offload App -> Reinstall.
Fact: A similar issue was also reported a couple of months ago when users running iOS 16.6 were not able to download Netflix, because the app required iOS 15.0 or later. If you're experiencing a similar bug please mention it in the comments.
Have you managed to fix Unable to Install Netflix on Apple TV, iPad or iPhone? Do you have a better solution or another problem to report? Share your feedback in the comments.
Related: Used all temporary Netflix codes error? This is how to get around it!