iPhone Tricks > Bug Fixes
Posted in Bug Fixes, News by Mike on October 18, 2023

The watchOS 10.1 features have been published by Apple in the release notes of the RC version. It's the first major update to watchOS 10! It also brings improvements, bug fixes and security enhancements! Check them all here!
watchOS 10.1 Features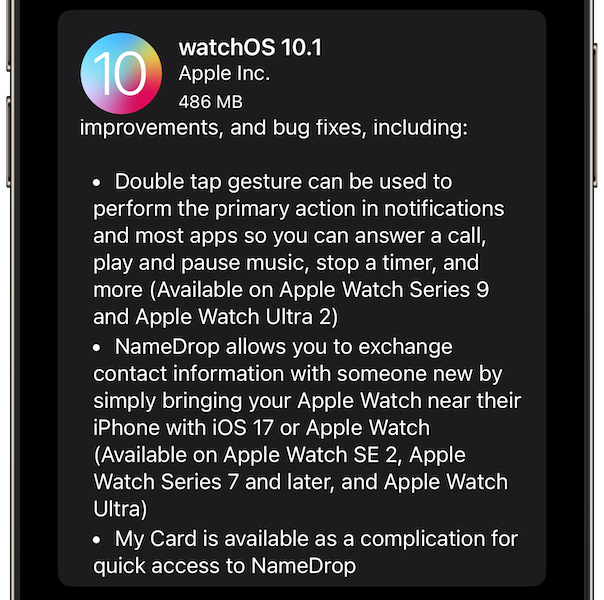 Apple mentions three new features in the release notes:
1. Double tap gesture now available as primary action in most apps. This way you can answer a call, play / pause music, stop a timer and more without touching the screen.
Fact: This feature is only available for Apple Watch 9 and Ultra 2!
2. NameDrop is now also available on Apple Watch. Bring your wrist near an iPhone (running iOS 17) or another Apple Watch to quickly exchange contact information.

Fact: Feature only available with Apple Watch SE2, Series 7 and later and the Apple Watch Ultra and later.

3. My Card complication is now available for Watch Face. It provides quick access to NameDrop.

More watchOS 10.1 Changes

Other improvements reported by users are tracked here:

4. To be updated. (Contribute in the comments!)
watchOS 10.1 Release Date
We expect the public version of watchOS 10.1 to be released next week, as early as Monday, October 24. Stay tuned for updates!
watchOS 10.1 Bugs Fixed
Apple mentions five fixes in the update log: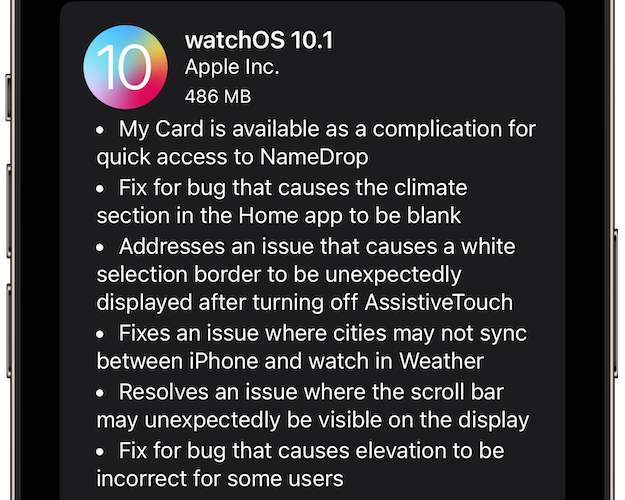 1. Climate in Home displaying blank has been fixed!
2. White lines on screen has been addressed. We've covered this Assistive Touch bug over here!
3. Cities not syncing in Weather app between iPhone and Apple Watch has been addressed.
4. Scroll bar stuck on display has been fixed too!
5. Elevation not accurate after watchOS 10 update has been fixed!

More watchOS 10.1 Fixes

Apple mentions other issues that have been addressed in the Developer release notes:

6. Battery drain issue caused by Apple Watch and iPhone running mismatched watchOS and iOS versions (10.1 vs 17.0 and 10.0 v 17.1) has been fixed!

Other watchOS 10.1 Fixes

Other solved issues reported by users are:

7. To be updated. (Contribute in the comments!)

Fact: Common watchOS 10 issues are tracked here. You can check them out and let us know if you notice any fixes!
watchOS 10.1 Security Fixes
The security content of this update will be published after the public release and will be updated here!
watchOS 10.1 Issues
Problems reported by users for this version are tracked here:
1. To be updated. (Contribute in the comments!)
watchOS 10.1 Download
This update is available, over-the-air, in the Watch app on the paired iPhone, on any compatible Apple Watch as long as the smartphone is updated to iOS 17!
Important: Apple recommends installing beta software versions on a secondary device. Downgrading watchOS versions is not possible unless you send your device in!
How To:
1. In the My Watch tab, go for General -> Software Update -> Beta updates.
2. Select the watchOS 10 Developer Beta or watchOS 10 Public Beta option!
3. Click Download and Install as soon as watchOS 10.1 shows up on the screen!
4. Agree with terms, enter the passcode and be patient until the new software is requested, downloaded, prepared, verified and installed on your device!

Have you updated watchOS 10.1 on Apple Watch? Do you have any questions? Want to report new features, bug fixes or known issues? Use the comments section available below!

Related: Apple has also released iPadOS 17.1 / iOS 17.1 RC , macOS Sonoma 14.1 RC, tvOS 10.1 RC and HomePod 17.1 RC.